Campaigns
T-shirts & Tote bags
We launched a new line of products conveying protection messages around the topic of child abuse in Lebanon. The items were conceptualized and designed by our communications team and were sold online and at events in Beirut. The protection messages used on multi-use tote bags and t-shirts were the following:
You don't need a weapon to protect yourself
All children need to know that the law can protect them against abuse. All children should also acquire self-protection skills in order to avoid using violence as a way to protect themselves from any type of abuse.
Your silence will not protect you
Reporting any type of child abuse is the first and most fundamental way of preventing child abuse. Speaking out about a painful experience is also the first step victims take towards empowerment and resilience.
Don't hit your baby one more time
In reference to the popular hit by Britney Spears, we used a playful anecdote to portray a powerful message. Non-violent communication is a key part of our vision and mission, so DON'T hit your baby one more time!
Candy is not always sweet
Can you find a child around you who doesn't absolutely love candy? Exactly. So you can imagine how easy it is to lure a child into an unwanted and traumatic experience. This is why we need to teach our children never to take candy from strangers.
Keep Calm and Say NO
Every child has a right to say NO when a touch, a look, or even a word doesn't feel right. If it doesn't feel right then it isn't right!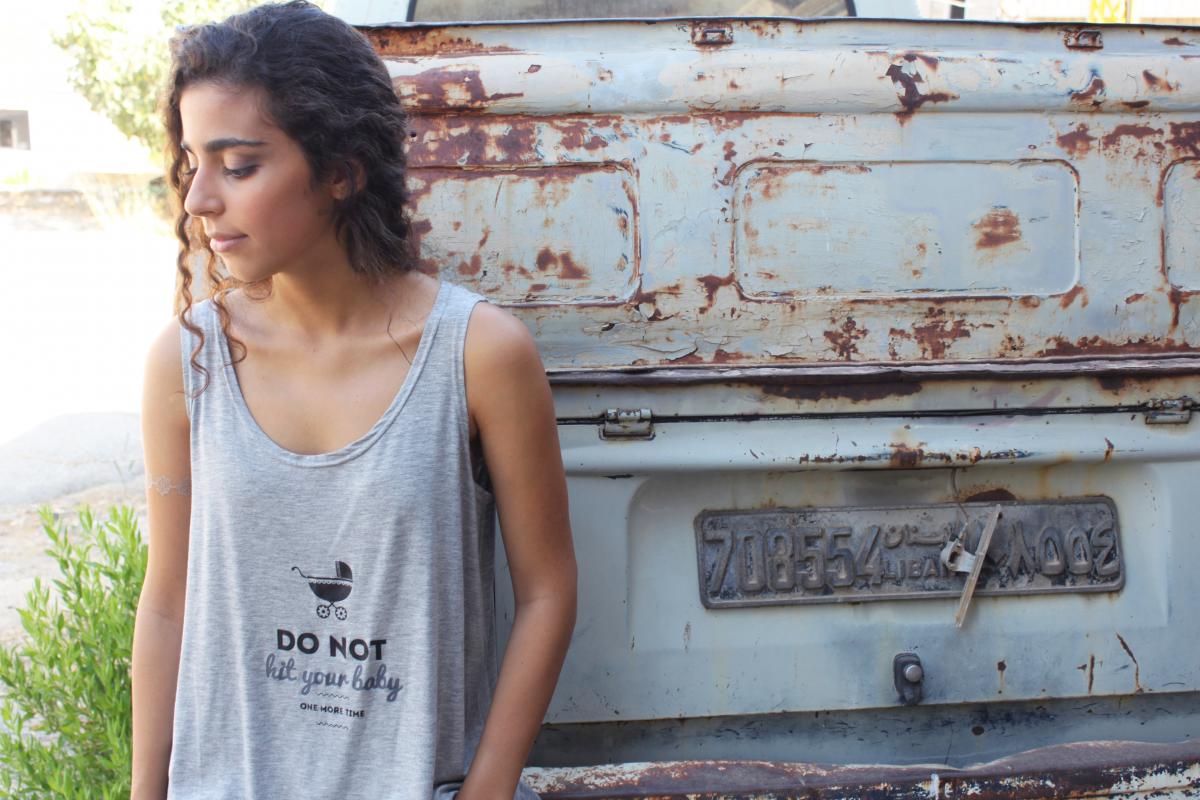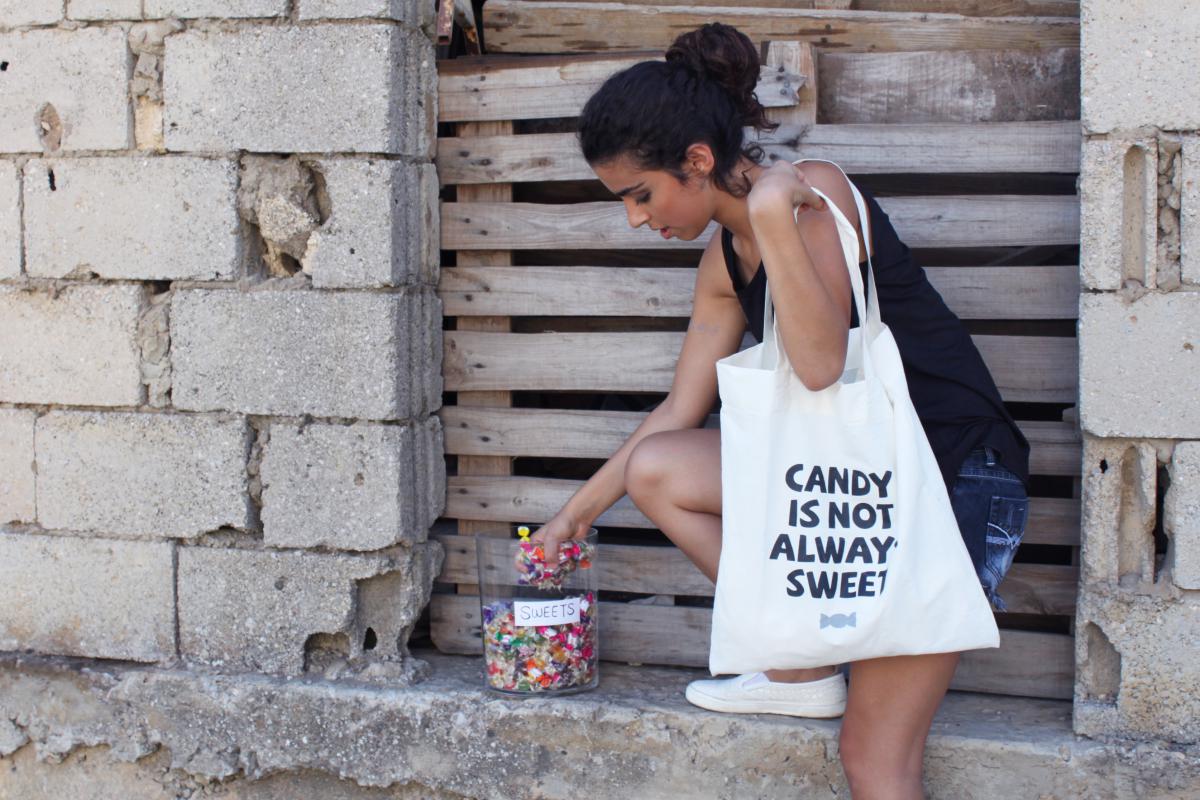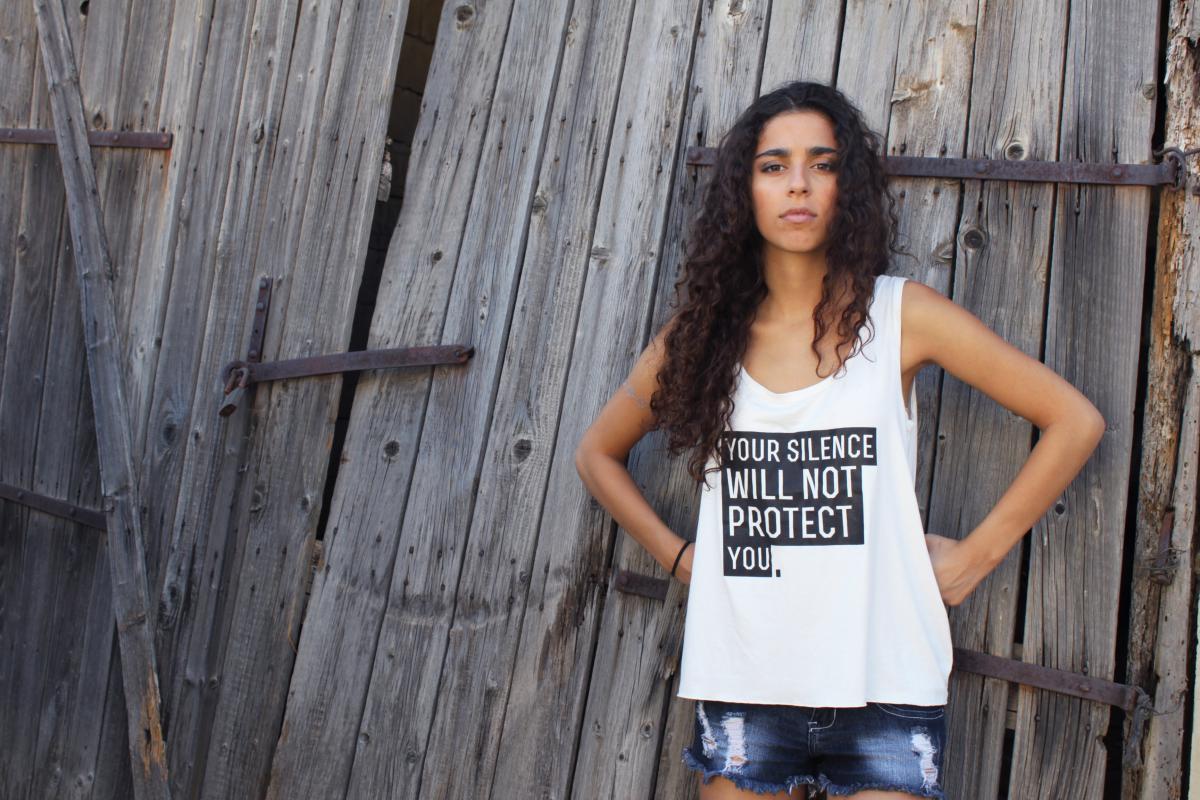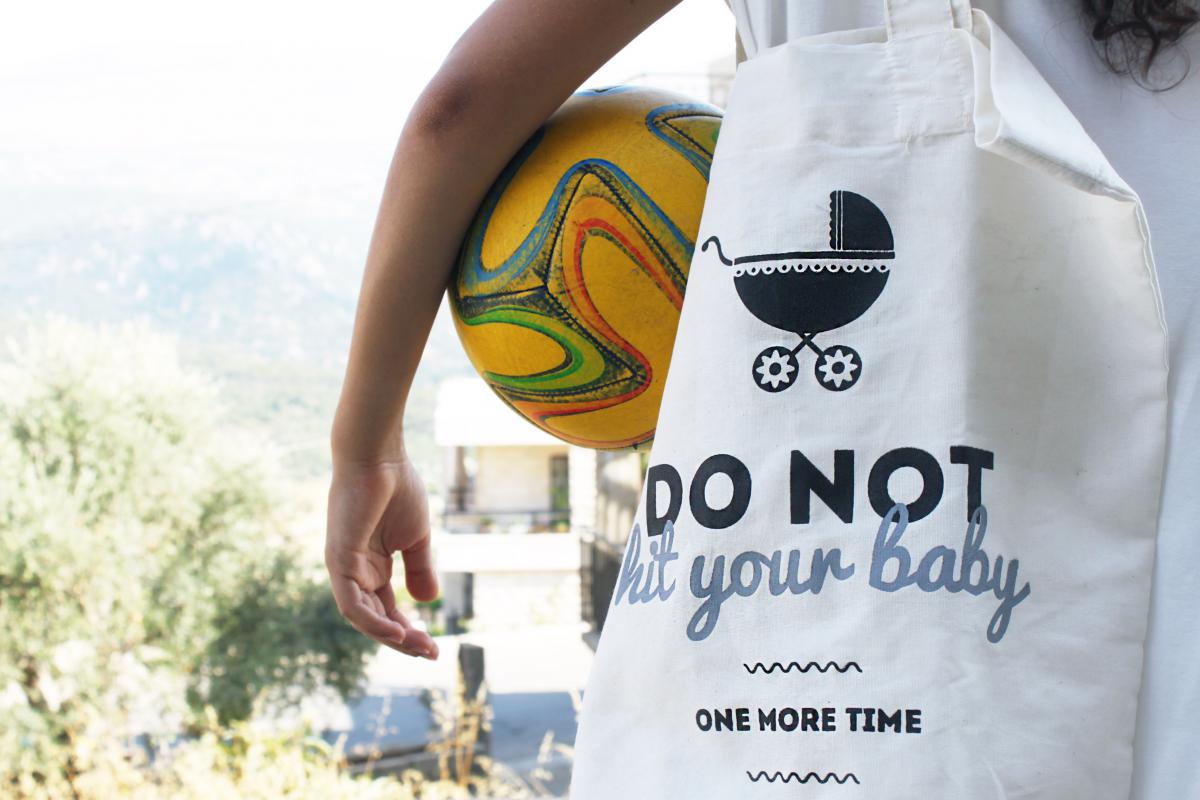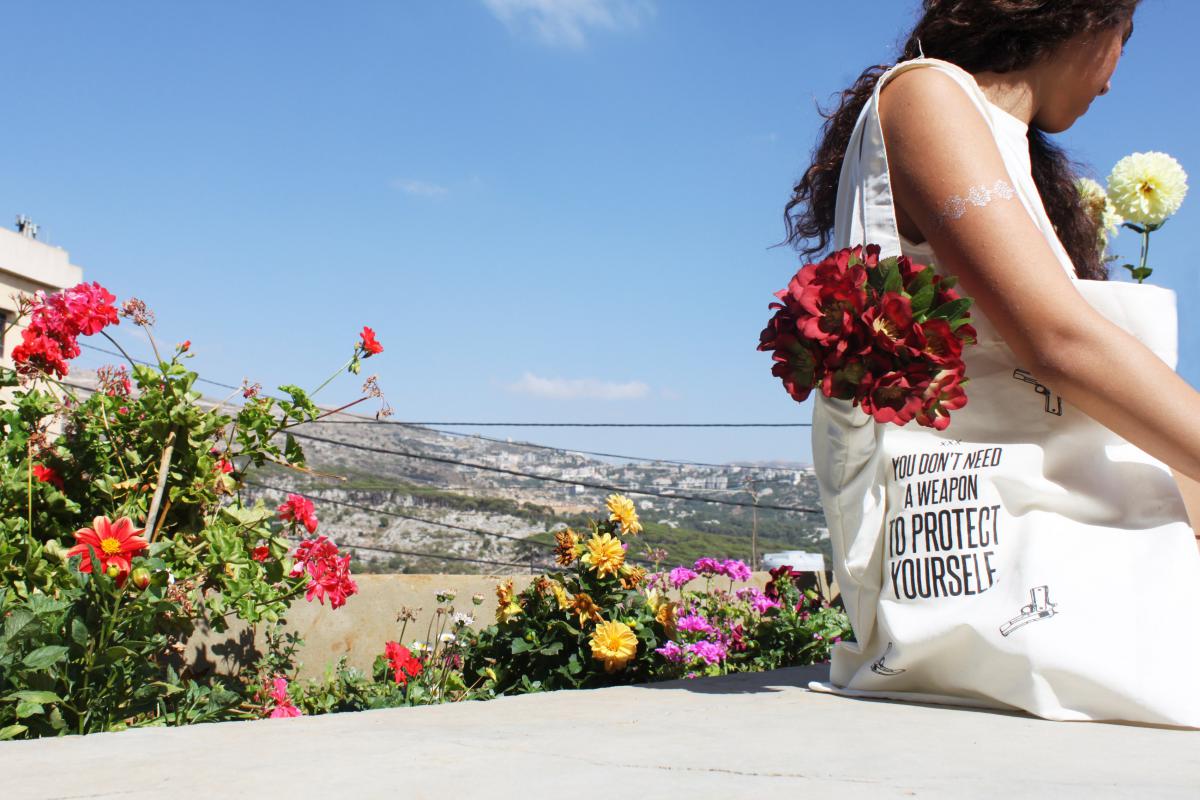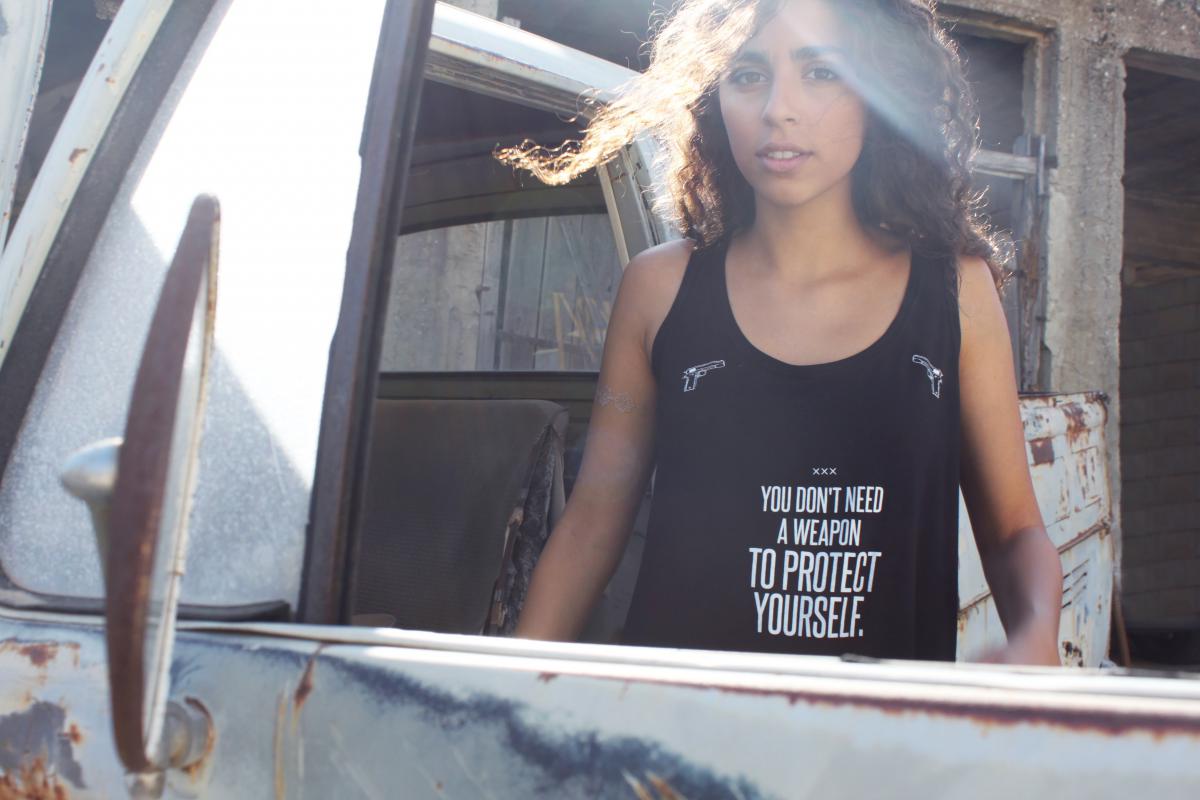 Bracelets In Collaboration with Little Ones
In collaboration with Little Ones, we launched the distribution of purple bracelets in order to prevent and raise awareness about child abuse in Lebanon. The bracelets were sold at Virgin Megastore during the month of May 2014 with all proceeds allocated to protecting, rehabilitating and socially reintegrating victims of abuse. By wearing this bracelet, people were taking a stand against child abuse, choosing to break the silence and speak up for every child who can't.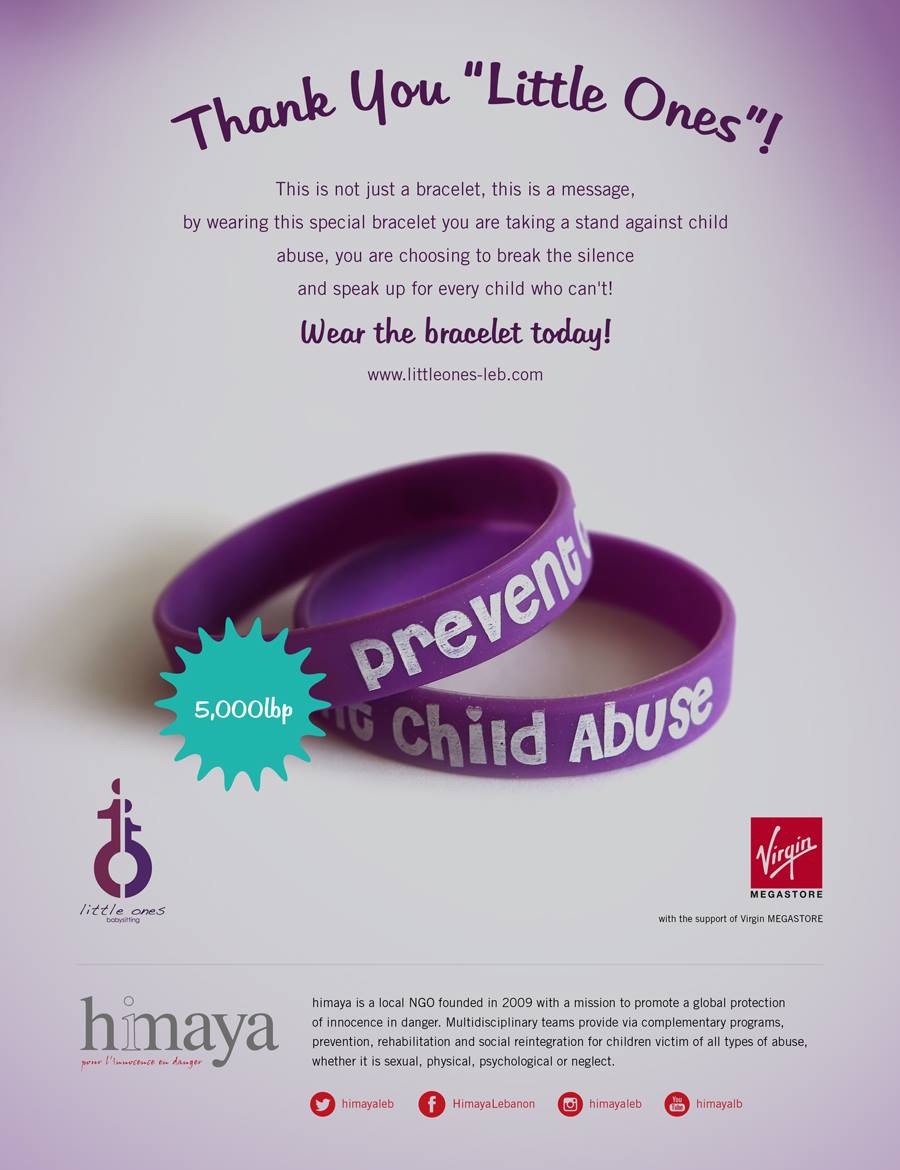 Hoover Campaign
During the month of December, Hoover helped young victims of abuse by washing up and cooling down their nightmares. WonderEight, Global Branding, and Interactive Agency created Hoover's eye-opening campaign and displayed it at all branches of Khoury Home and Abed Tahan across the country. The campaign aimed at raising awareness about child abuse, a subject scarcely addressed in the Arab world. With every purchase of a Hoover product, a donation was made to himaya to sustain our fight against child abuse. Donation boxes were also available in all branches for donations, no matter how big or small.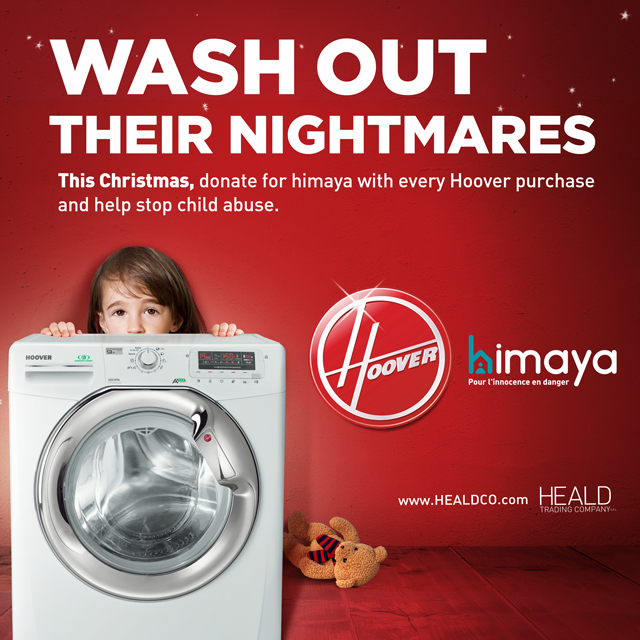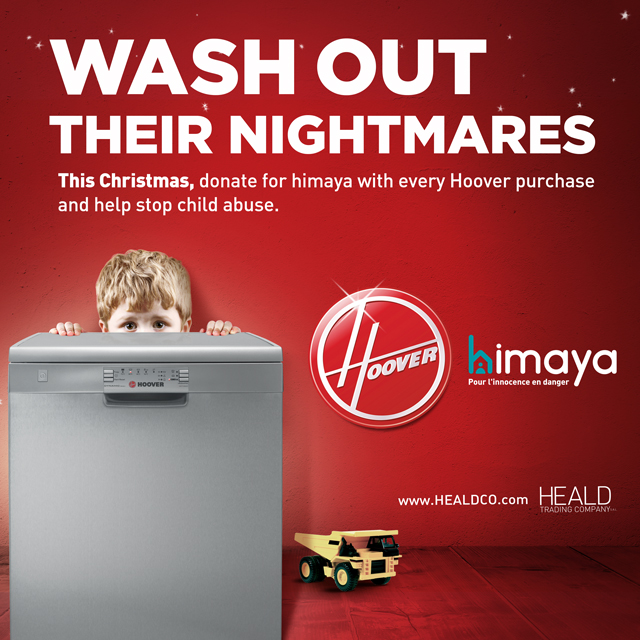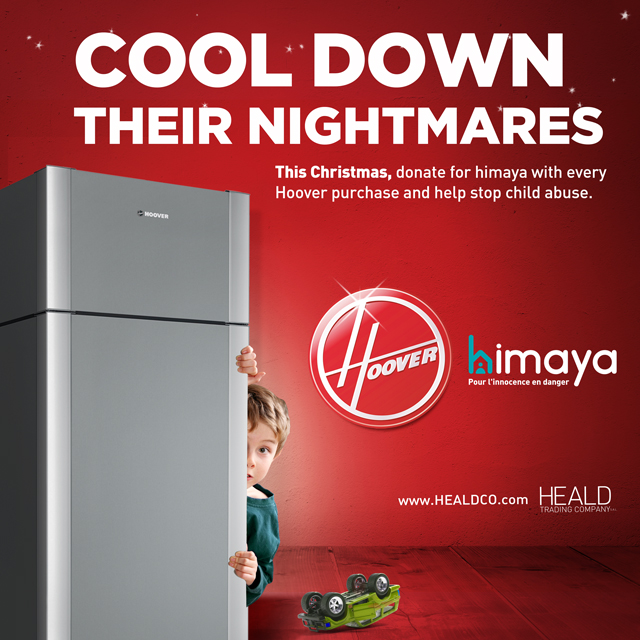 Child Abuse Prevention Month 2014
April represents the National Month of Child Abuse Prevention. We took this opportunity to launch a campaign aiming to inform the public about himaya's mission and work. Billboards with our campaign ads were set up around Beirut and we had more than 15 media appearances and written articles with the help of Promomedia and TWBA Raad. We were also interviewed or mentioned by other print media platforms like L'Orient le jour, Layalina, Tamyras positive Lebanon and Hebdo magazine. Following the billboards that were also shared on many social media platforms with a total reach of 50k+, our Radio Spots were aired with the voices of Mr.Georges Khabbaz and Ms. Mariana Wehbe. Interadio and Radio El Jadid were kind enough to promote them on all of their stations.
Abuse IS happening, in our own homes, our schools, our streets. It's time to break the silence and report it when you see it.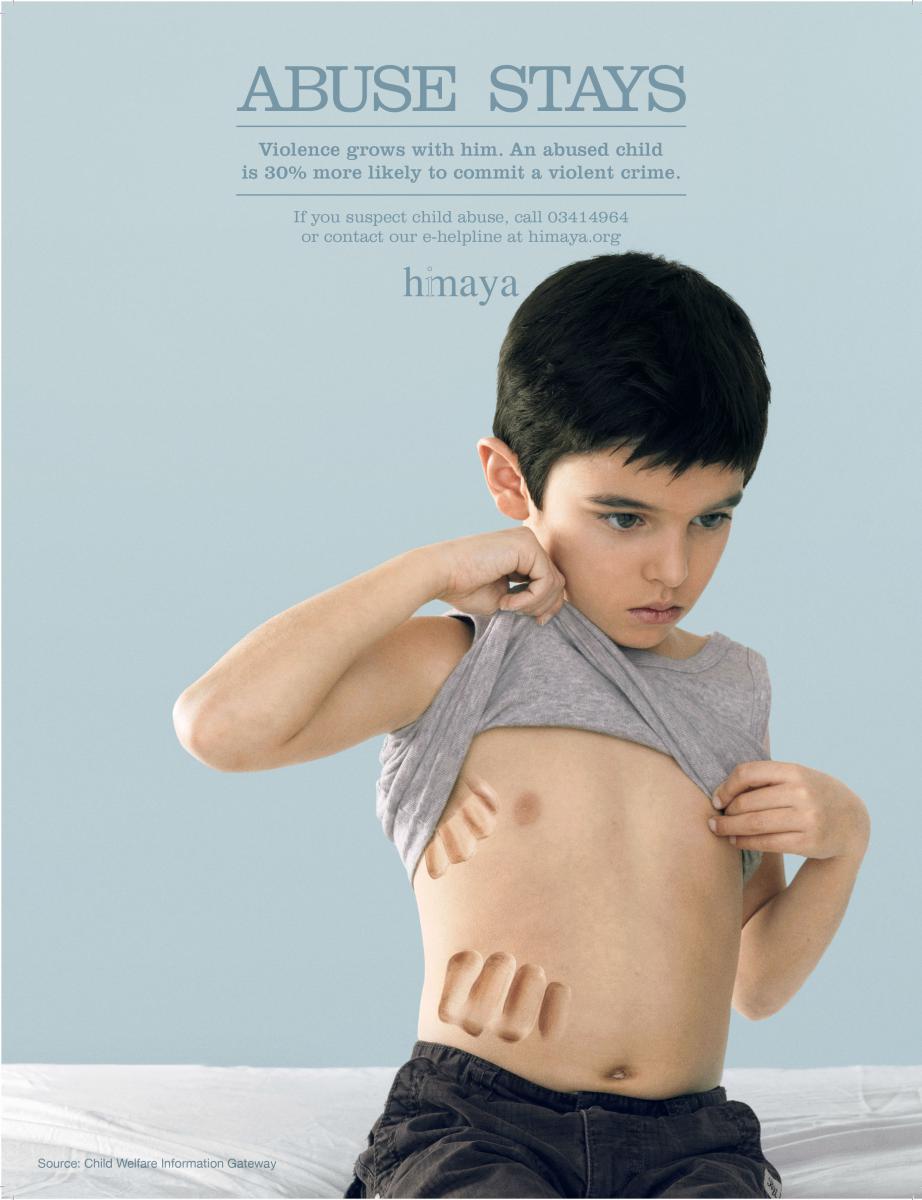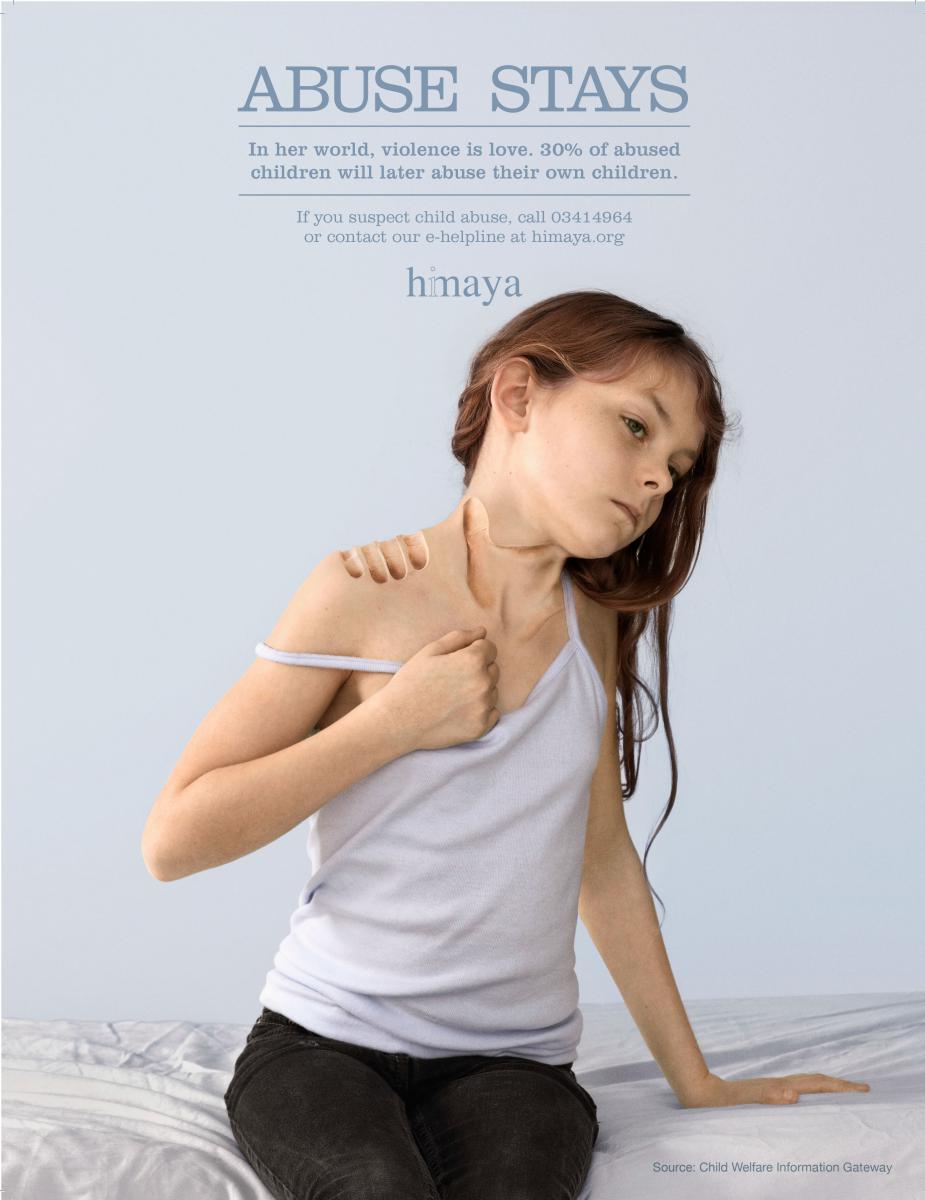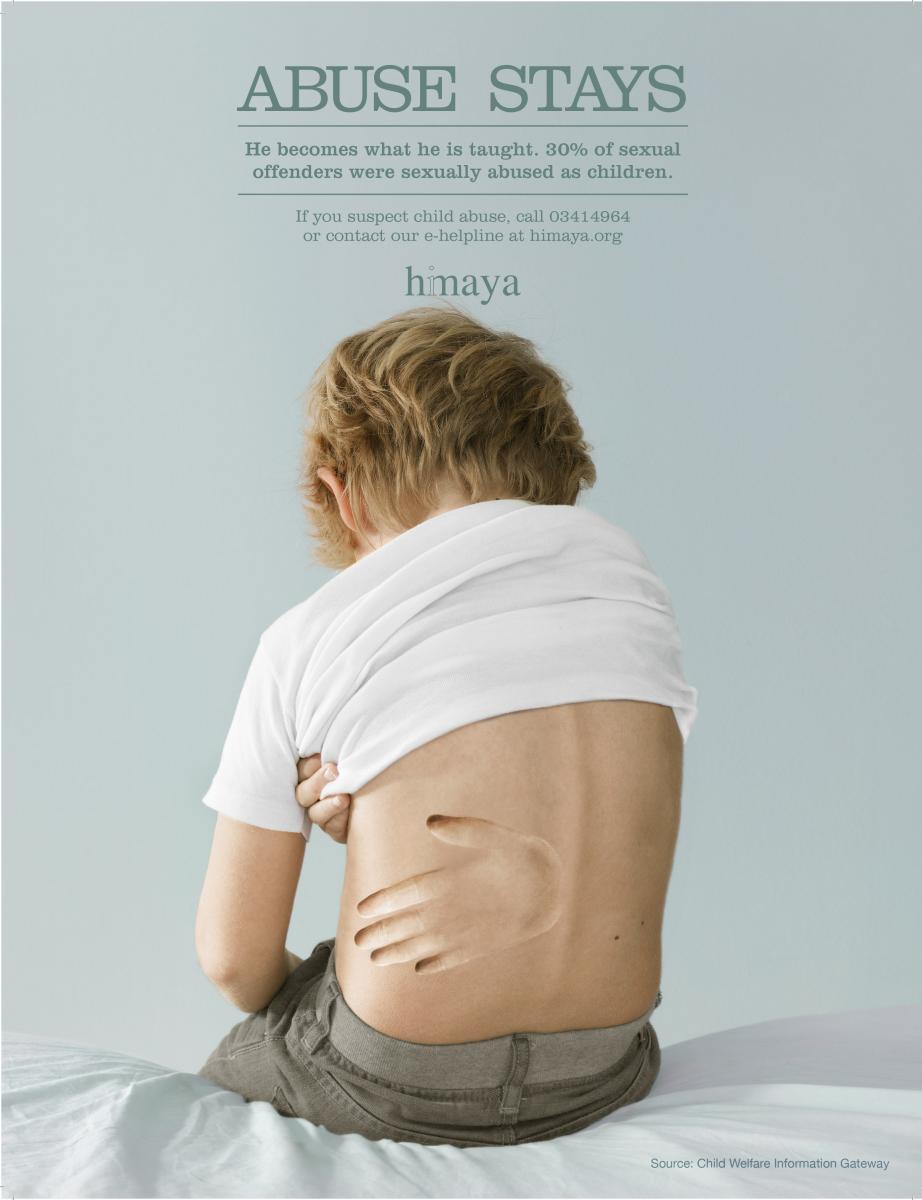 Liban Post Campaign
We partnered up with LibanPost at Christmas for three consecutive years! Our Christmas initiative involved the distribution of heart-warming greeting cards with proceeds used to support young victims of abuse.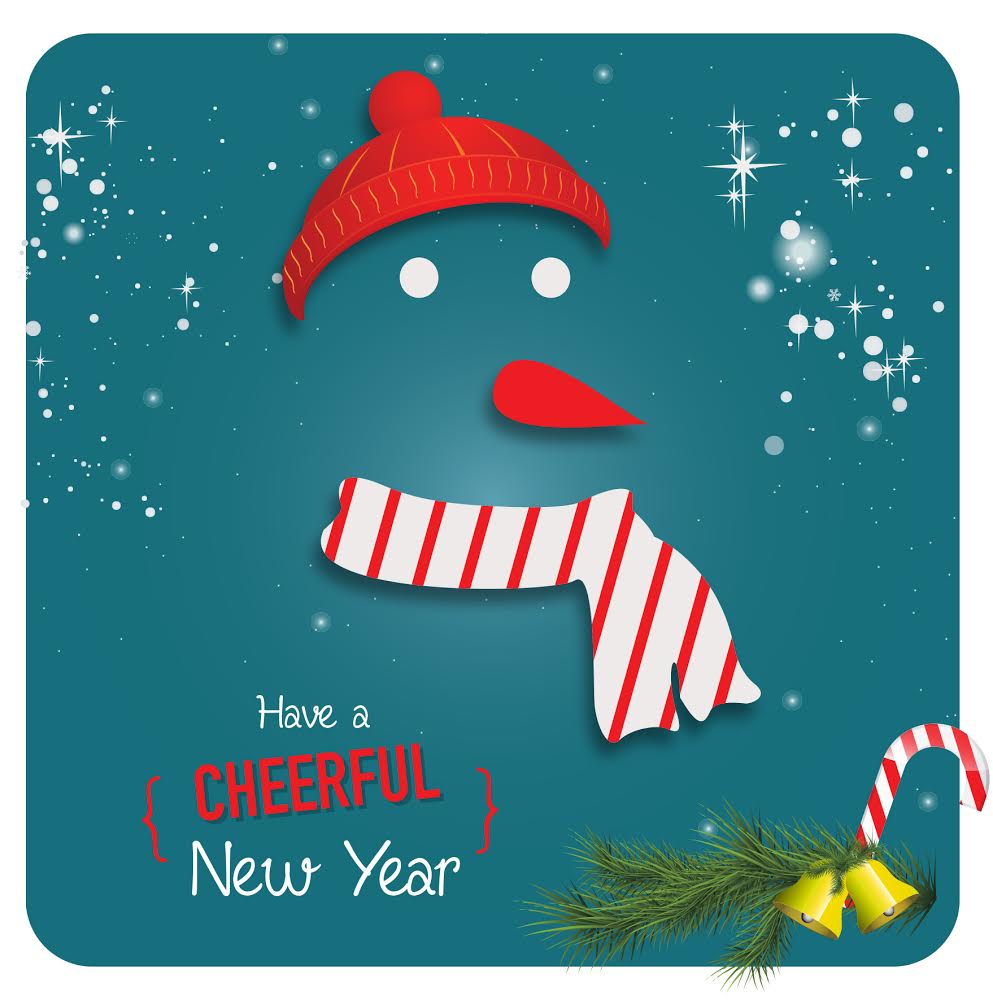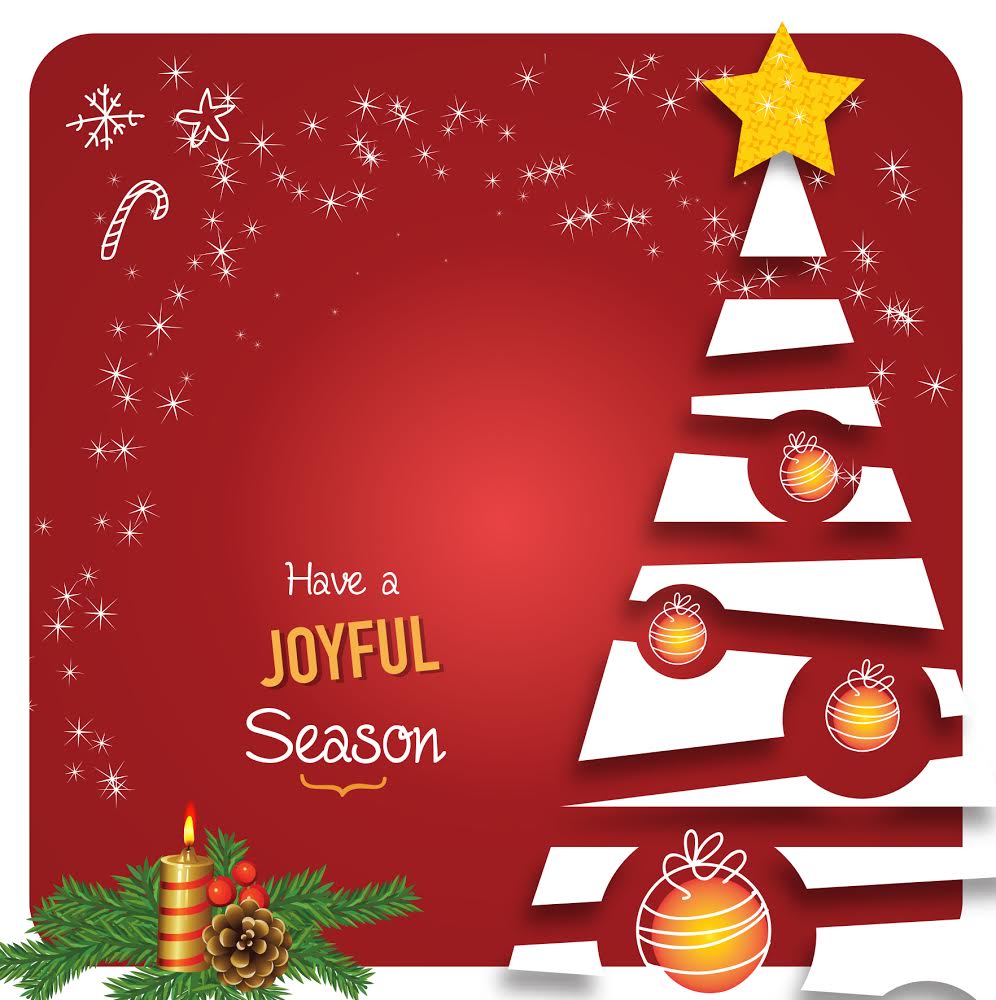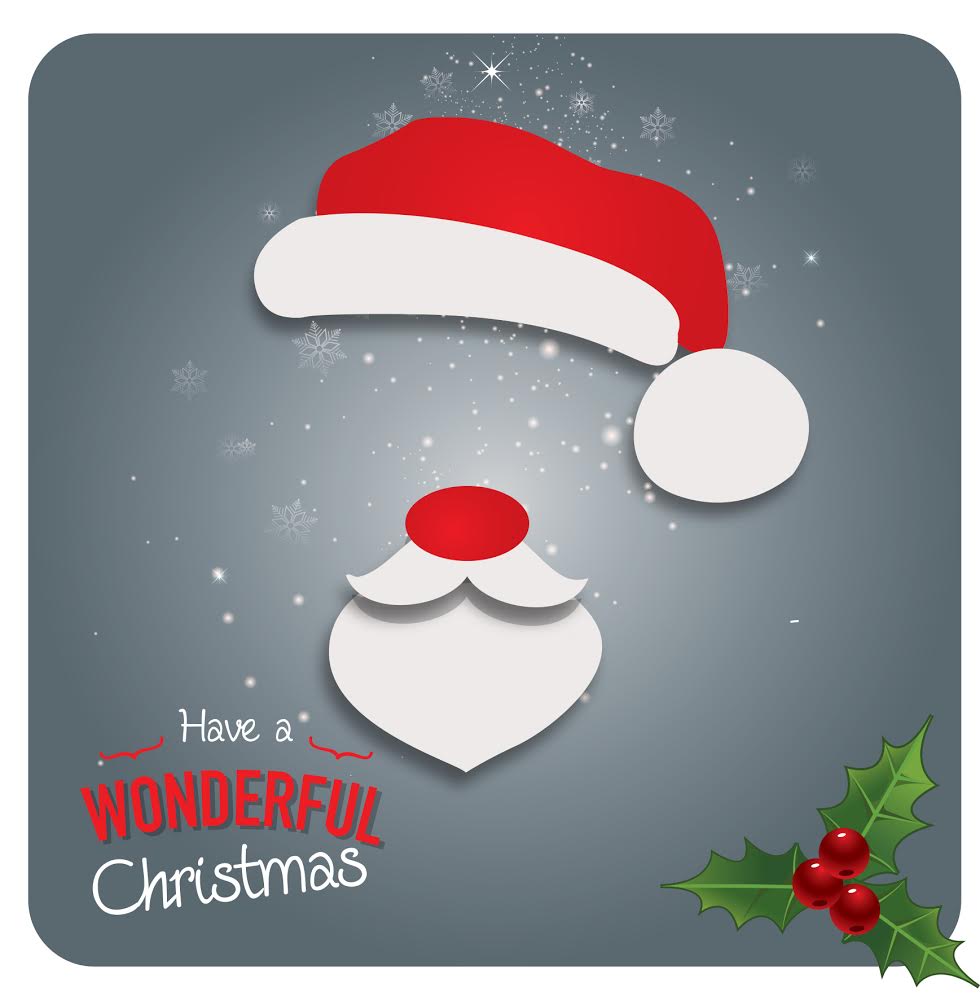 November 19, Child Abuse Prevention Day 2014: Children Are Being Abused In Cars Campaign
In order to raise awareness about November 19th, we teamed up with Valet Parking Services (VPS) to hang mirror cards holding awareness messages and asking the public to spread the word about child abuse. The hangers were put in cars a weekend before the day to reach the greatest number of people. Awareness activities were also organized by our team at several schools and organization on the subject of child abuse. Radio stations also raised awareness about the importance of the issue.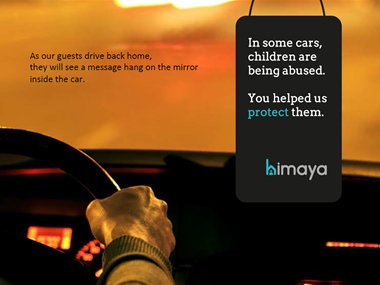 Lebelik Collaboration
All our clothing products are available for online purchase on lebelik.com, a website that promotes Lebanese designers and supports our cause among other NGOs'.
Lebelik supports our cause by displaying our items on their website, but also by donating the proceeds of purchases during events. You can view the items for sale on Lebelik by clicking
here.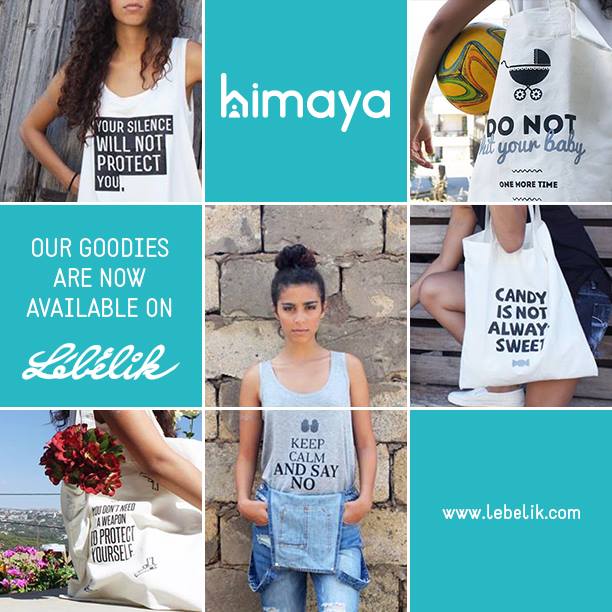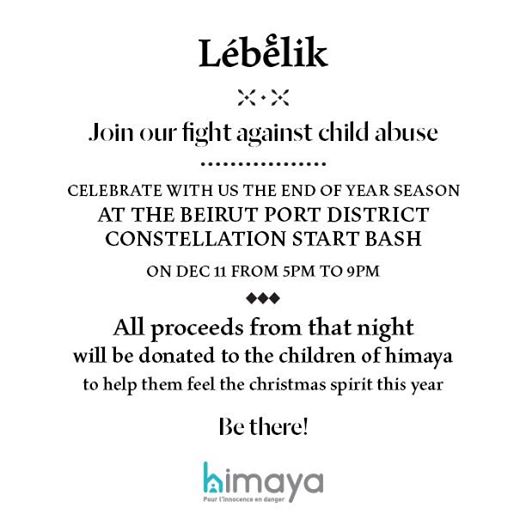 Candy is not always sweet: Jelly Belly
Candy has always been lured children, even when offered to them by strangers. We created a "Jelly Holidays" cover for a delicious box of Jelly Belly of which all the proceeds were allocated to the support of young victims of abuse.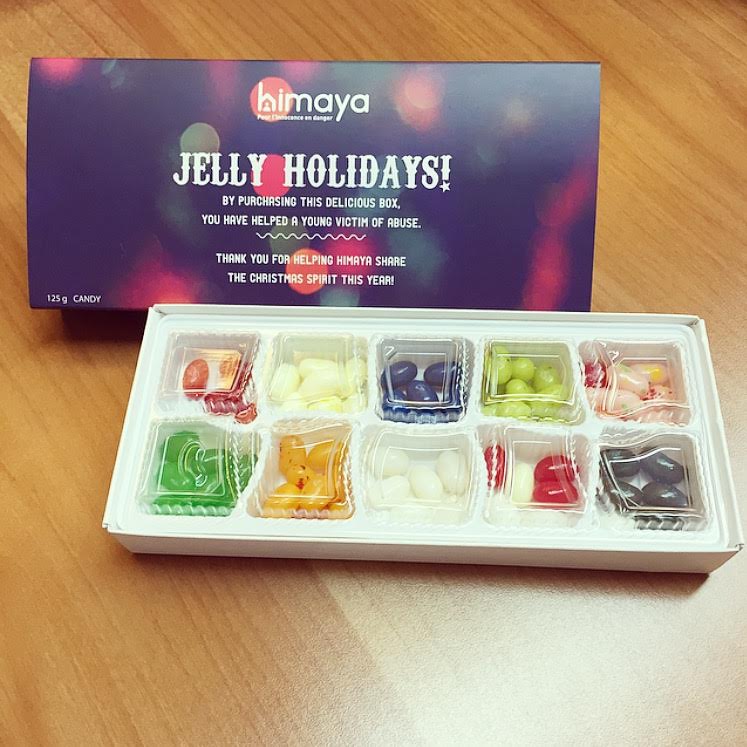 Break the Silence
Predators Are Everywhere
A Predator in the Park
Collaboration with Leo Burnett Beirut
Today, 1 out of 7 children in Lebanon is a victim of sexual abuse, and what's even more outrageous, in our conservative culture, is that no one dares to talk about it. 
A child's safety is often compromised for the protection of a family's pride and reputation.
We wanted to raise awareness on the topic and break the silence through a campaign that would make the people feel involved and encourage them to donate as much as possible during our annual fundraising event. 
Agency: Leo Burnet Beirut
Production House: Intaj
Post production: VTR
Child Abuse Prevention Month 2015
During the month of April, National Child Abuse Prevention Month, we launched a campaign aiming to inform the public about our mission and work. Having treated 711 abused children in 2014 alone, we decided to share those alarming numbers and raise awareness about child abuse in Lebanon. Billboards revealed our campaign ad around the Beirut region, with the addition of 15 media appearances and written articles published in newspapers and magazines across Lebanon.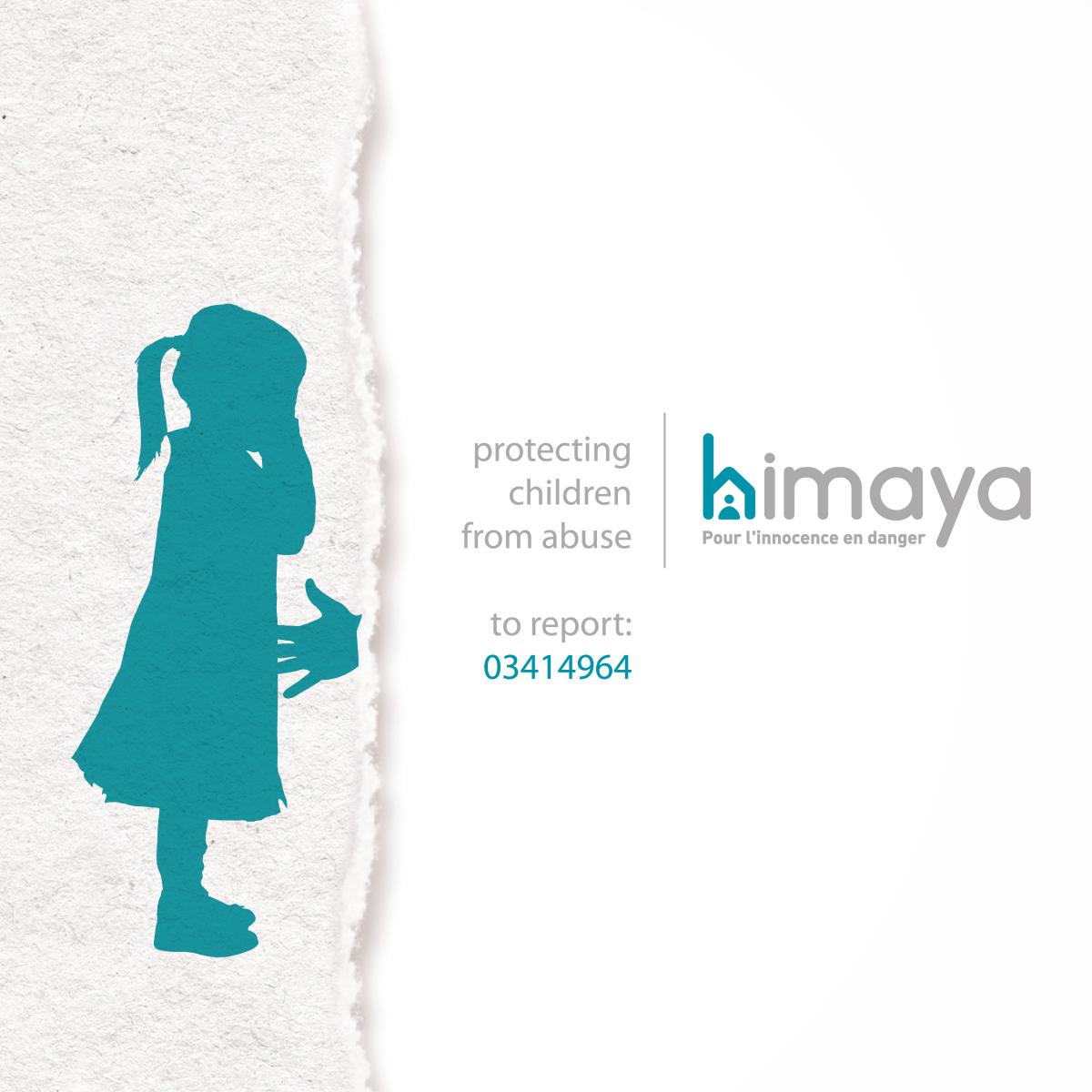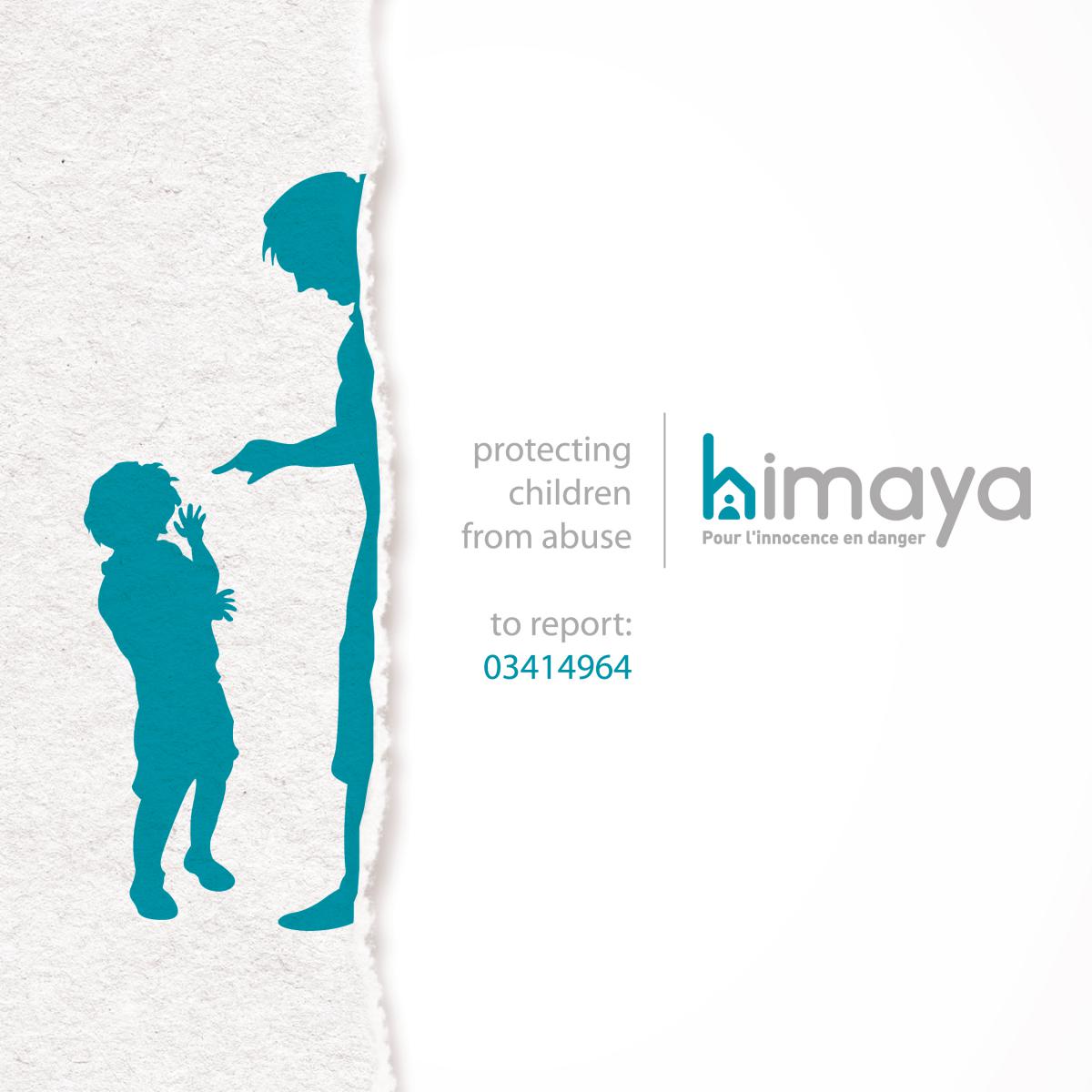 Harley Davidson x Lebanese Rugby League x himaya
We teamed up with the Lebanese Rugby League and Harley Davidson HOGS during the month of April 2015 for Child Abuse Prevention Month. A series of shots were taken with the rugby players and Harley bikers looking fierce. Each shot read "Break the silence, we've got your back," encouraging victims of abuse to break the silence on abuse and share their experiences without fear or worry.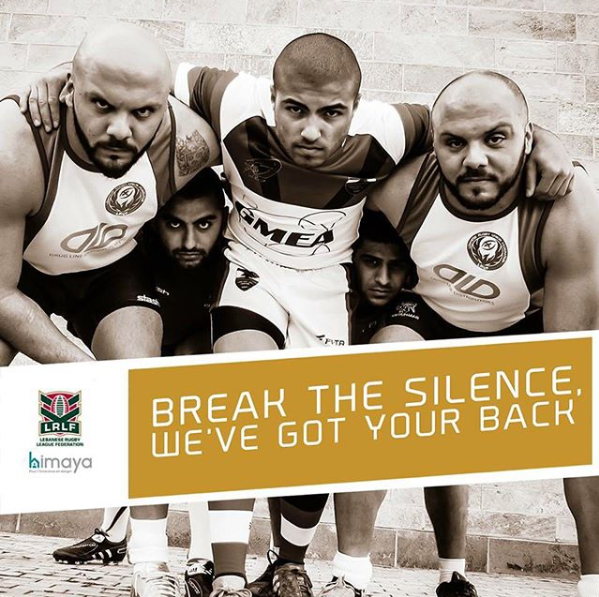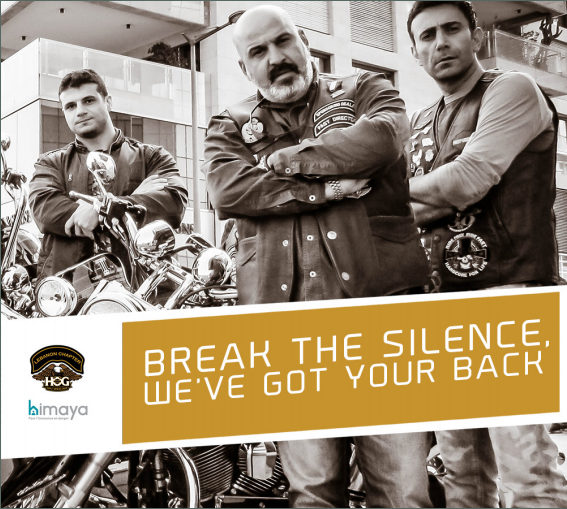 Mont Blanc Ascent 2015
In September 2015, Rayan and Rami Rasamny climbed the Mont Blanc and successfully reached the highest peak in the Alps. The climb was challenging but was used as a metaphor for the challenges that children victims of abuse in Lebanon must face every day. Throughout their climb, Rami and Rayan raise awareness about child abuse and himaya through their social media accounts, referring their audiences to the crowdfunding page. With their help, we managed to raise $11,500 which helped fund the education of 30 children! After returning home from their long and exciting journey, the Rasamny cousins visited the children to tell them about their adventure and offer them the flag they held at the peak.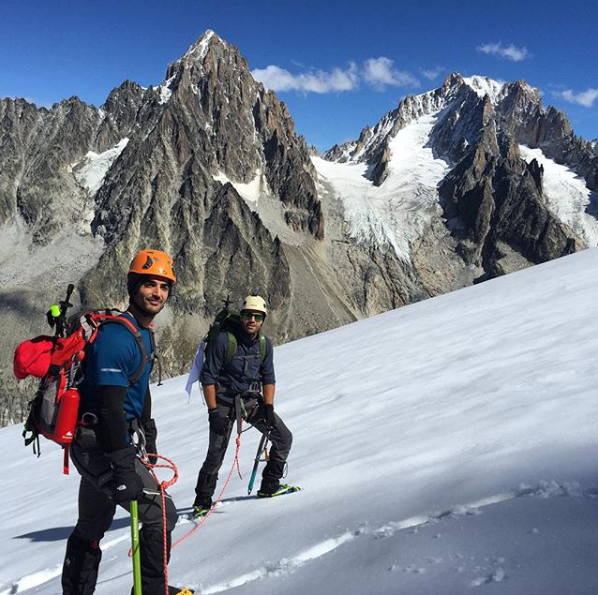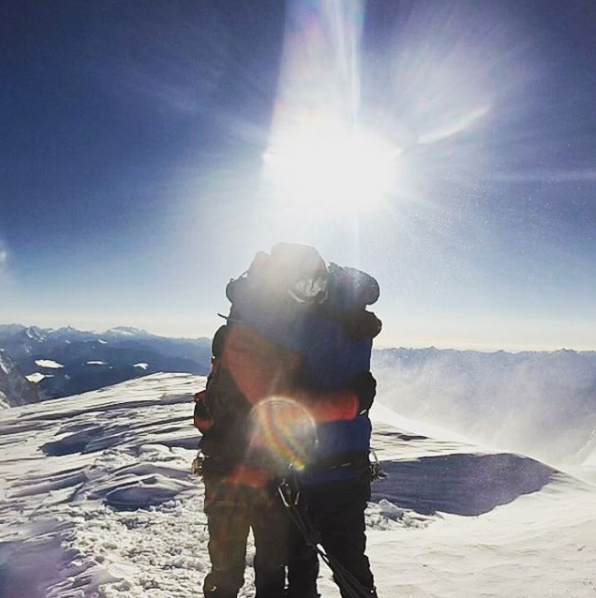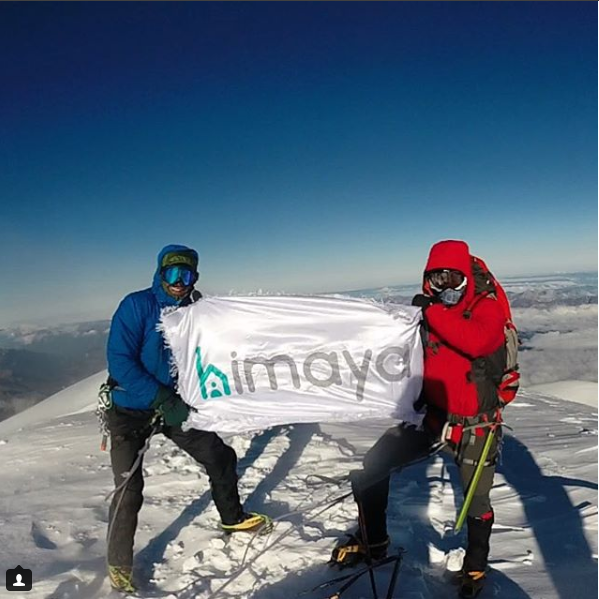 Matterhorn Ascent 2016
After Rami and Rayan's success with Mont Blanc, the cousins decided to attempt another summit for himaya's cause, this time: the Matterhorn. As they scaled up the mountain, they regularly posted about their whereabouts and raised awareness about child abuse in Lebanon, as well as the services himaya offers to children who have experienced abuse. Followers flocked to the crowdfunding page and with their generous support, we managed to raise $19,542! Once they successfully reached the peak of the Matterhorn, the Rasamny cousins held up the himaya flag, this time holding the children's signatures!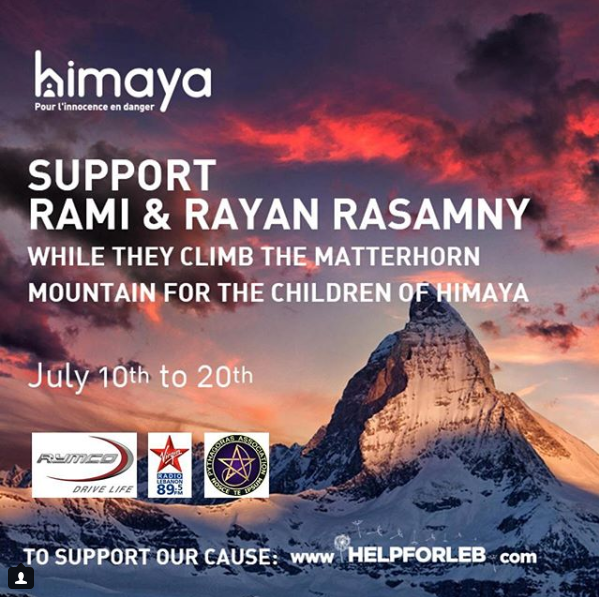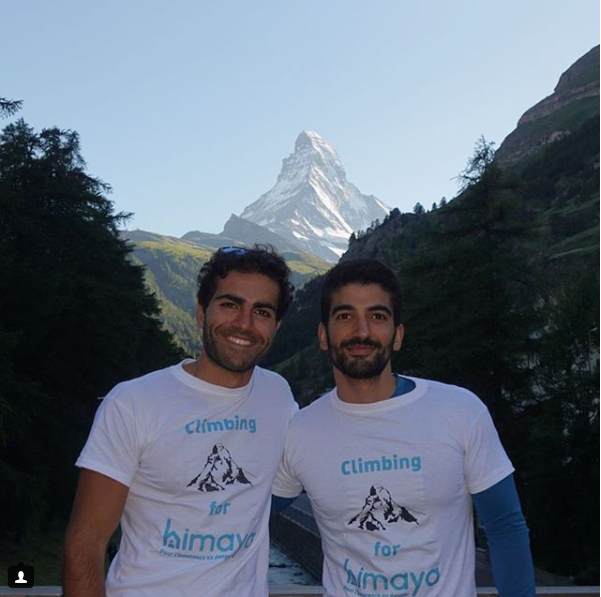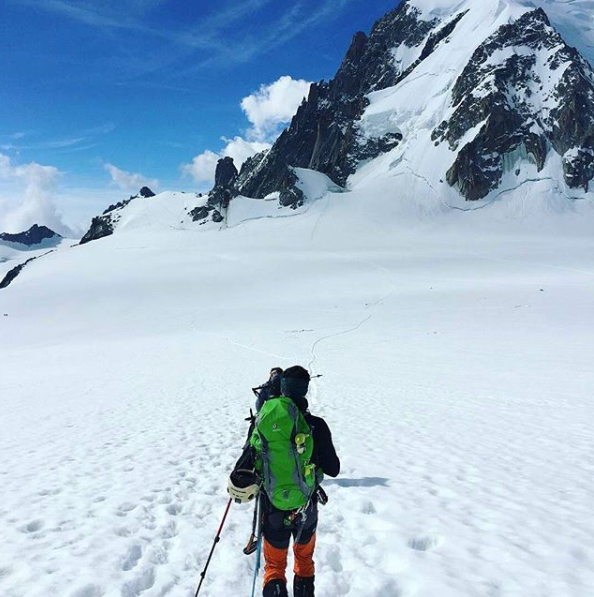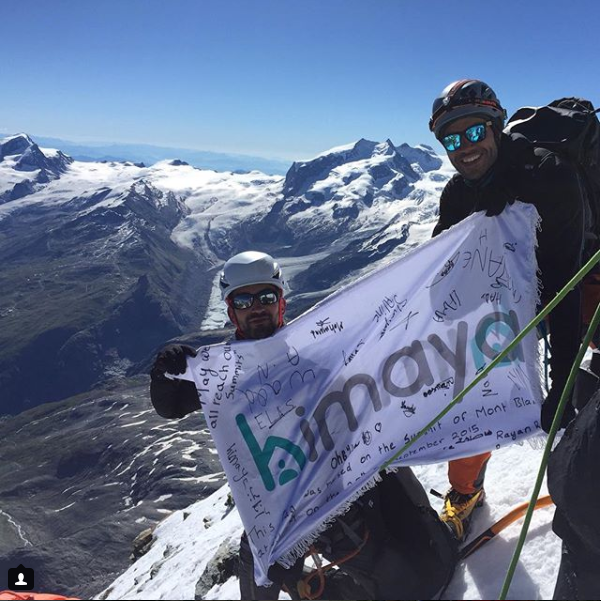 Child Abuse Prevention Month 2016
We combined forces with a lot of players and covered a lot of ground for Child Abuse Prevention Month 2016.
First off, we launched our "It's All In the Eyes" campaign at ABC Ashrafieh. The purpose of the campaign was to help the public recognize when a child is a victim of abuse and to intervene by getting in touch with himaya. Children often do not speak up when they're victims of abuse, but the pain is evident in their eyes.
We also joined forces with Divvy, who happily lent us their slide for the month. With their help, we launched an inspiring campaign encouraging their customers to reconnect with their inner child in order to fight child abuse in Lebanon. Customers were encouraged to use the slide, and with every video upload to Instagram and Facebook, Divvy donated $1 to our cause!
The Lebanese Rugby League Federation didn't let us down either. They endorsed our cause yet again and helped us raise awareness about child abuse.
Not to mention our outdoor campaign with billboards set up across the country and the distribution of up to 5,000 cards with our slogan and hotline numbers, encouraging people to report abuse when they know about it. Numerous radio and TV stations hosted us and helped us raise awareness as well.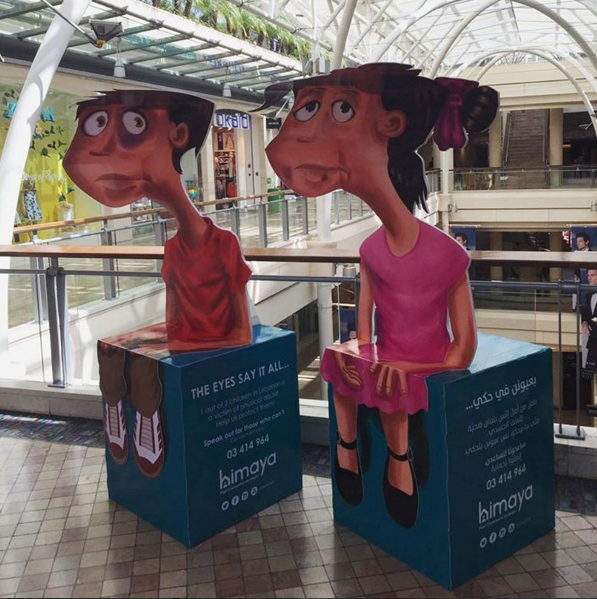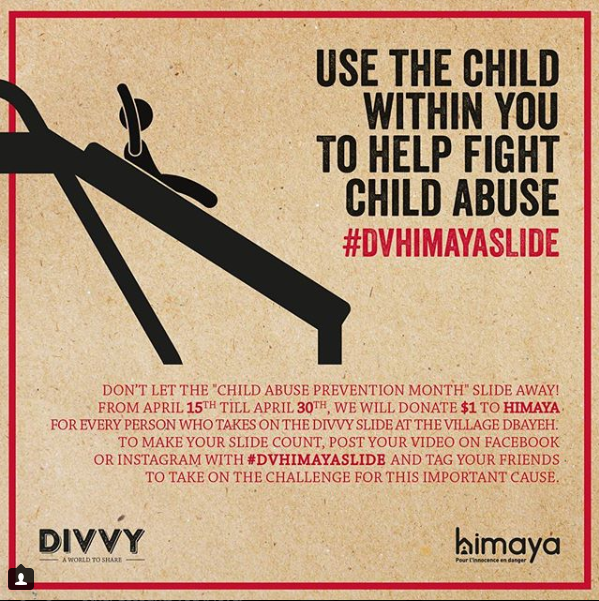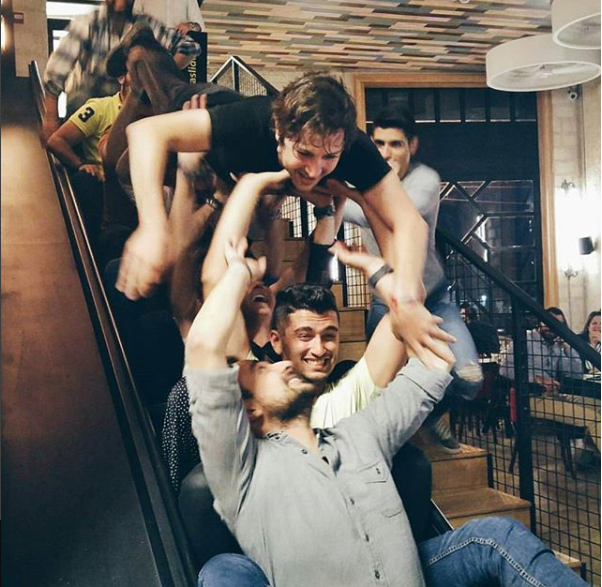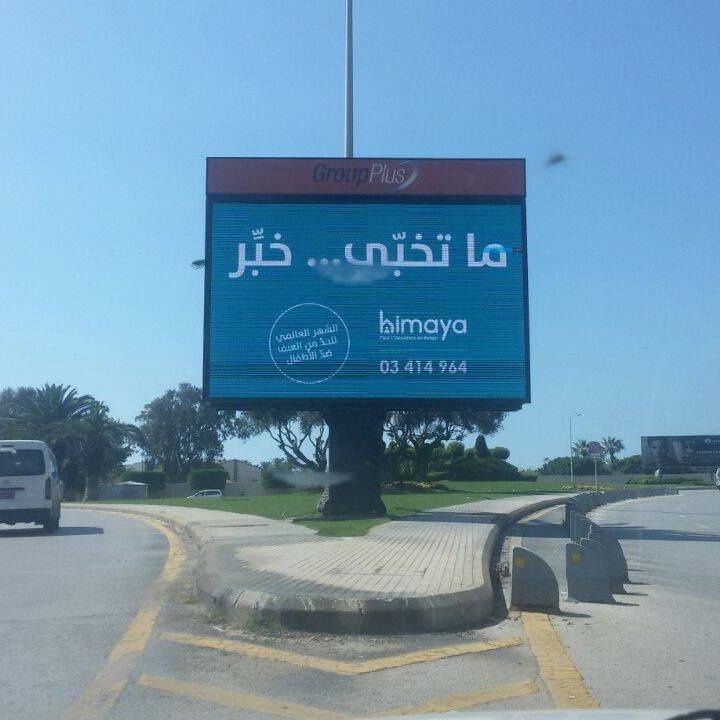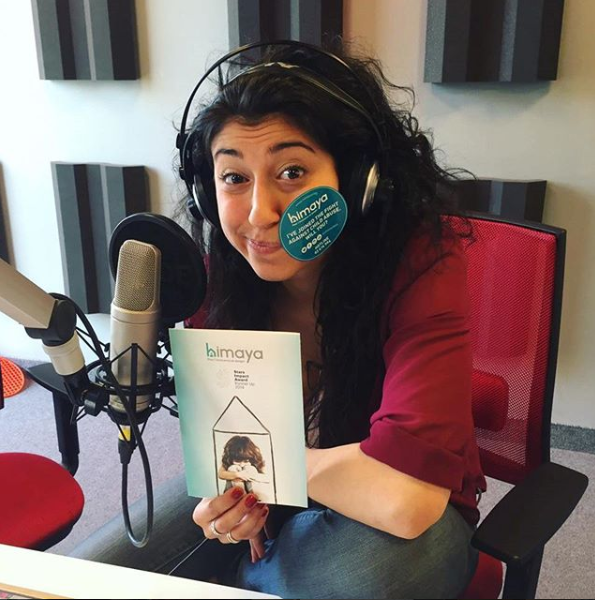 Polished Man Campaign
In 2016, the #polishedman campaign swept the web-nation with its innovative approach and hard-hitting message. Men across the country painted one of their fingernails and uploaded a picture on social media while raising awareness about child abuse in Lebanon.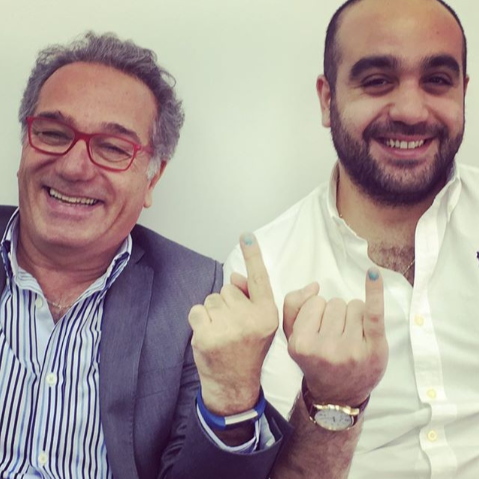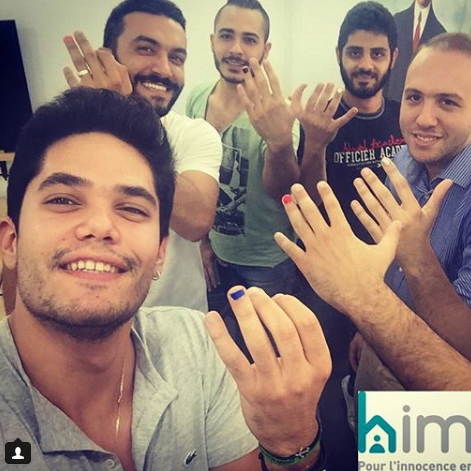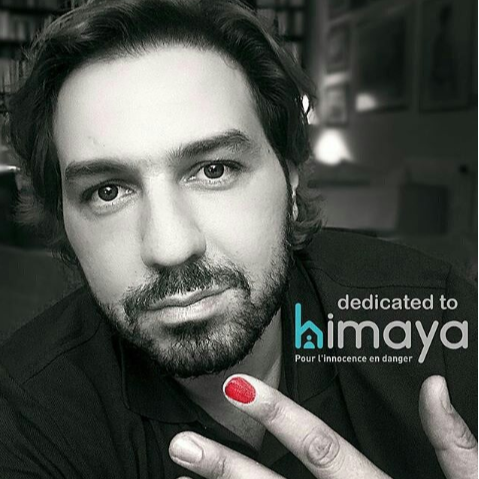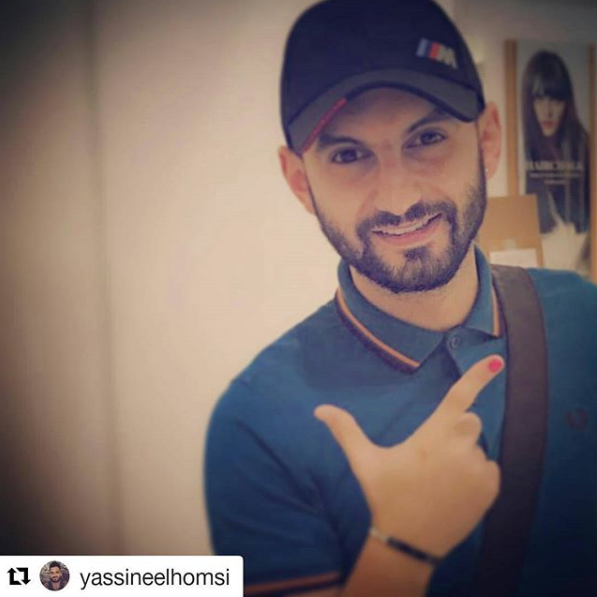 Spread the Love 2016 Christmas Campaign
Christmas is a perfect time to spread joy and happiness in the lives of children who weren't as lucky as we were growing up.
The Spread the Love campaign was a simple message of hope and support for children who had no home to go to for the holidays, not for financial reasons, but because their own home was a threat on their lives. Spread the Love campaign engaged the Lebanese community in the public and private sectors. They thought of those children and offered them one unified message: We've got your back!